EBA was present at the European Conference on Donor Health and Management (ECDHM) conference in Copenhagen from 5 to 7 September 2018, both as an event partner and as participants, with Executive Director Kari Aranko and Catherine Hartmann representing the association.
The scientific part of the conference featured a posters exhibition, abstracts for oral presentations, break-out sessions and keynote addresses, touching on a wide range of subjects around the donor: marketing and communication actions, donor retention, donor compensation and/or remuneration, as well as iron deficiency, serious adverse events or donor injuries, use and development of large-scale data banks and haemovigilance. The social program included a wonderful boat trip on the first evening, a morning run guided by an experienced trainer and a working dinner. A very full programme for the 250 participants, which still allowed fruitful networking opportunities, and for newly appointed Executive Director Catherine Hartmann to be introduced to colleagues from European and international blood services.
Take home messages included:
the necessity to increase accessibility and to repeat invitations to retain young male donors
the need to better understand and define altruistic motives
the importance of non-remunerative donations for long term donors vs. payments of the latter
the importance of time since last donation as a large single effect on current iron stores
the positive impact of post-donation communication with donors (via SMS or email), in particular when specifying how the donation was used
the potential of educational strategies aimed to increase understanding and acceptance of the whole donation to transfusion process to increase the recruitment of donors, and
that restless legs syndrome in blood donors is associated with an increased risk of migraine for them.
The abstracts are available on the conference programme website.
EBA financially supported the conference and has committed to continue partnering with the ECDMH hosts in Hamburg in 2020, with some increased help from the EBA secretariat. EBA is proud to have taken part to this successful event and congratulates the organisers for a perfect organisation, programme and for providing key learnings.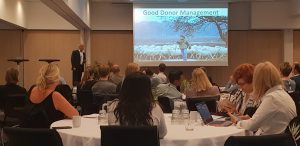 Pictures: Catherine Hartmann, EBA