FinnPHWB – Finnish Prehospital Whole Blood Study.
Organisation: Multicenter study; PI at Finnish Red Cross Blood Service. PhD students in University of Helsinki. Several Finnish Wellbeing services counties are participating. 
Lead researcher: Jouni Lauronen, MD, PhD, associate professor 
Grant amount: 40500 euros 
Project description: The international trend has been the re-emergence of whole blood as the primary replacement product for acute bleeding. Finnish Red Cross Blood Service has validated cold stored, 0 RhD positive, male donor, leucoreduced, platelet sparing, low ABO antibody titer whole blood product (LTOWB). For this prospective, open, non-randomized clinical study LTOWB will be used in three prehospital emergency medical services that currently use most of prehospital blood products in Finland (HUS area, Pirkanmaa area and Päijät-Häme area). Other participating prehospital emergency medical service bases provide controls. Blood transfusions will be given for clinical indication only.  
Registry-based analysis for the need of pre-hospital transfusions will be conducted and model to predict this need in different situations will be made. In addition, in vitro properties of whole blood product are compared to other transfusion combinations. 
Project duration: 12.2021 – 12.2026 
Project Aims 
The primary goal is to introduce LTOWB and to analyse its feasibility in Finnish prehospital emergency medical service.  
Study also aims to prove safety of LTOWB, and to analyse in vitro as well as in vivo coagulation properties of LTOWB and its effects on in vivo endothelial injury and inflammation compared to currently prehospitally used PRBC transfusions. Need for LTOWB in different scenarios will be analysed. 
 Outcomes 
The primary endpoint of the clinical study is the number of patients having severe coagulopathy (measured as INR of ≥ 1.5) at hospital arrival. The secondary outcomes in order of precedence are: Number of patients having coagulopathy at hospital arrival (INR >1.2), time at the scene of transfusion capable unit , need for massive transfusion protocol at hospital, discharge from primary hospital, discharge from intensive care unit, number of patients with acute lung injury according to Berlin definition, in-hospital mortality, 24 hour mortality, any serious adverse effect within 30 days, any adverse effect excluding anti-D formation of D-negative patients within 30 days. 
Clinical study is currently recruiting, and no data is available yet. 
In vitro comparison has been made. It shows that whole blood product has more platelets and higher hemoglobin and fibrinogen concentration when compared to transfusion combinations usually given at hospital or prehospitally. 
CSWB = cold stored whole blood, RWB = reconstituted whole blood, RBC = red blood cells, LP = LyoPlas 
Coagulation properties of CSWB were as good as in reconstituted whole blood and better that red cell + LyoPlas combination usually used during prehospital emergency care. 
Related resources: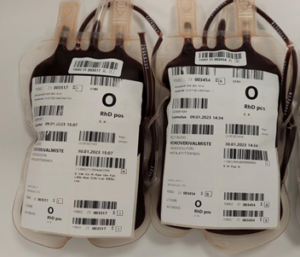 First two LTOWB units ready to use 
In vitro comparison of cold-stored whole blood and reconstituted whole blood: https://onlinelibrary.wiley.com/doi/full/10.1111/vox.13441